Every Witch Way
Poll
If You Have Magic What Would You Be?
About The Show
The first season was part of Nickelodeon's "One Month Event", which means that the episodes aired from January 1 to January 30, for a total of 20 episodes. On March 13, 2014, Nickelodeon announced that they had commissioned a second season of Every Witch Way, that aired from July 7 to August 8. On July 31, 2014, Nickelodeon renewed the show for a third season, which premiered on January 5, 2015.
Affiliates


Featured characters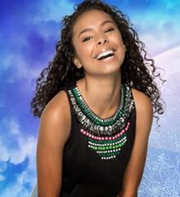 Katie Rice is a panther and is one of the smartest girl in iridium high. she is maddie van pelt's sidekick like Andi cruz. she pretend she is head panther when Maddie is not in school like in season 2 when jax arrive she said she is head panther after she said Maddie is head panther and jax was very confused. she's portrayed by Denisea Wilson.
Polls
When do you think season 3 is going to be Premiere?
</center>
Ad blocker interference detected!
Wikia is a free-to-use site that makes money from advertising. We have a modified experience for viewers using ad blockers

Wikia is not accessible if you've made further modifications. Remove the custom ad blocker rule(s) and the page will load as expected.